Fancy a mermaid sightseeing in Copenhagen? If you still haven't had enough of mermaids, we have some great tips! Because, did you know that Copenhagen is home to more than one Little Mermaid statue? Get ready to collect the whole set!
The Genetically Modified Little Mermaid
Close to where the world famous statue of the Little Mermaid is looking out over the water, you can also find another mermaid statue. One that looks slightly different from the original. At Langelinie allé 17, in the basin by Dahlerups pakhus, sits "The Genetically Modified Little Mermaid".
This statue is a part of a bigger sculpture group called "The Genetically Modified Paradise". It was created by the Danish professor Bjørn Nørgaard. In a square at Dahlerups pakhus is a big fountain where the statues are placed. A genetically modified Madonna surrounded by Adam, Christ, Maria Magdalena, Eve, The Tripartite Capital and the Pregnant Man. 
The statue collection is Nørgaards humoristic commentary on post-modern society.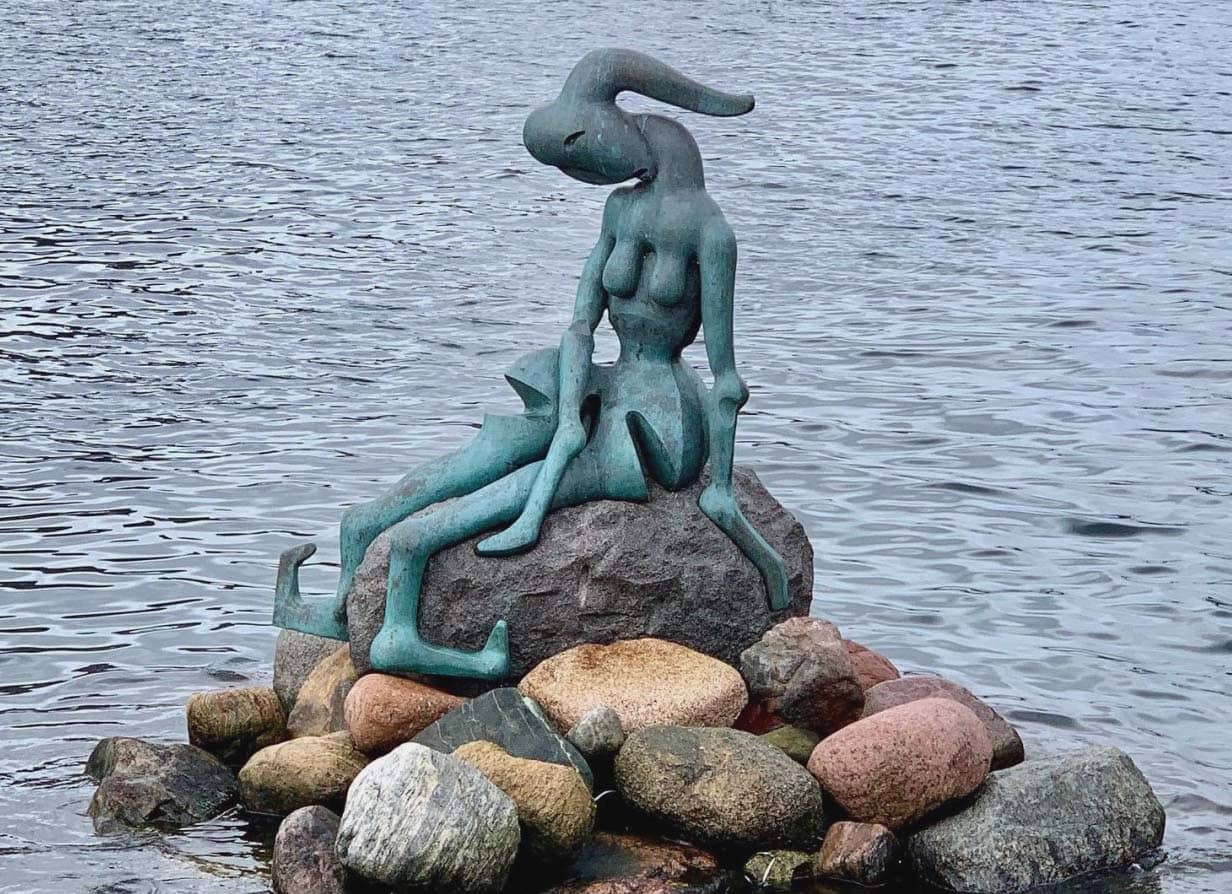 If you walk to the roundabout by Højbro bridge, lean over the railing and peer down into the muddy waters of the Slotsholm canal. You might see this underwater sculpture. "Agnete and the Merman" is a group of bronze sculptures created by sculptor Suste Bonnen in 1992.
The statue portrays a merman and his seven sons with outstretched arms. They're begging Agnete to return home. It's inspired by on an old Danish folk ballad with the same title. In the ballad, a merman woos Agnete to leave her children behind and come and live with him in the sea. She agrees to do this, and they have several children together. But one day Agnete hears the church bells in her town ring and decides to visit the church. In some versions of the tale, her mother convinces her to return to her family on land, but in others, she returns to the sea.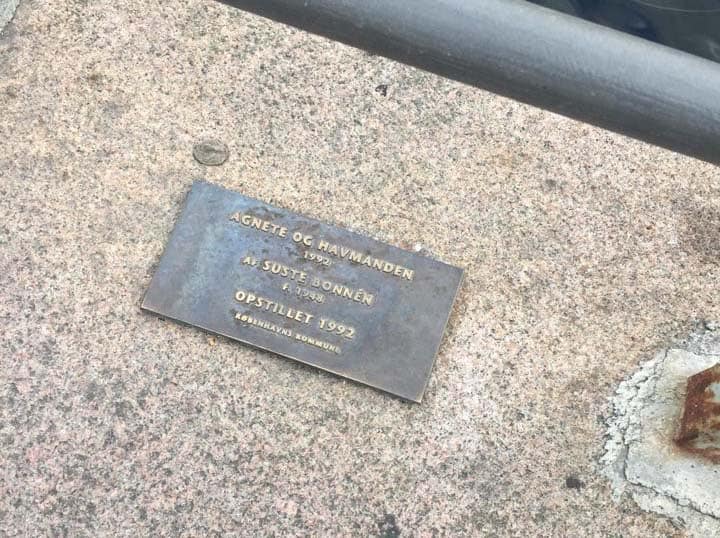 The Black Diamond Mermaid
This statue, simply named "Mermaid" actually predates the most known mermaid statue found at Langelinie. "Mermaid" was created in 1921 by sculptor Anne Marie Carl-Nielsen. It can be found in two places; the original bronze cast in the Danish National Gallery – and a new bronze cast which was unveiled outside The Black Diamond building in 2009.
Carl-Nielsen's version of The Little Mermaid is less human and more creaure, with protruding fins, water in her hair and a terrified look on her face. It is unknown if Anne Marie Carl-Nielsen was inspired by HC Andersen's fairy tale of The Little Mermaid when she made the statue, because she has been known to create other statues based on mythological creatures before. Although, she did design a statue of Andersen's "The Little Match Girl" in 1937.
Happy mermaid sightseeing in Copenhagen this summer!