StoryTourist offers a tourism experience where books, films and other stories come to life, turning the world around us into a playground for the imagination. We create self-guided audio walking tours based on well-known stories, such as Sherlock Holmes, The Little Mermaid and The Strange Case of Dr Jekyll and Mr Hyde.
With the StoryTourist app, you can find fun, flexible and affordable options to traditional guided tours.
StoryTourist aim to tie reality and story together, in order to create an immersive experience. For instance, imagine solving crimes with Sherlock Holmes in London, exploring the deep sea with The Little Mermaid in Copenhagen, or stepping into Hjalmar Söderberg's Stockholm.
Our app makes all this possible by offering self-guided walking tours based on famous stories. When you take a StoryTour, you will experience the narrative in the very spot where it takes place. The app uses GPS to guide you from one place to another, and once you get there an interaction will be triggered to pop up on your mobile phone screen. Depending on the story, it can be anything from old images of what this spot used to look like, to sounds, puzzles or animations that will tie reality and story together.
Through the StoryTourist app you will be able to find out what your favourite fictional place looks, tastes, smells and sounds like.
Join us, and step into the story with StoryTourist!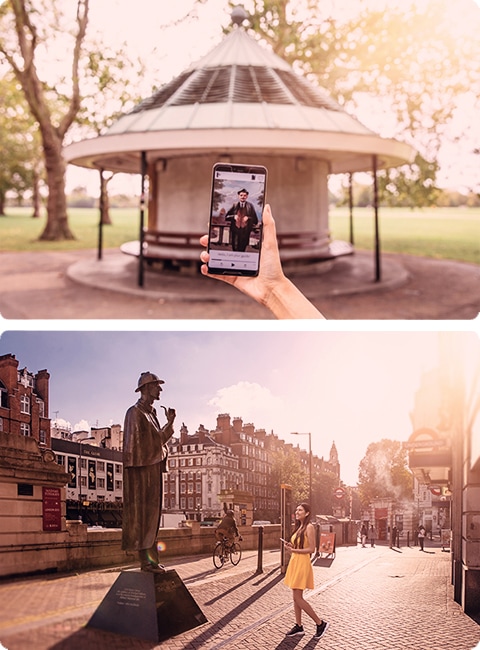 Our walking tours are perfect for:
There are many reasons to go on a StoryTour:
questions about our self-guided tours?
Curious about how our StoryTours work, how to buy them or what you need to think about before heading out on a StoryTour adventure? Check out our FAQ page for more information, as well as for troubleshooting of the StoryTourist app.