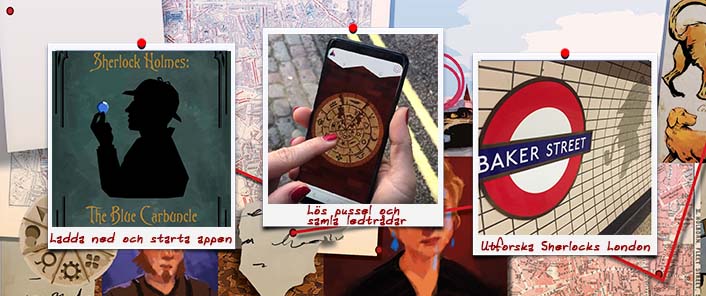 Vandra i Sherlock Holmes fotspår med innovativ guide-app
Malmö-startupen StoryTourist lanserar just nu sin senaste StoryTour – en app som erbjuder en självguidad tur i London med utgångspunkt i Arthur Conan Doyles klassiska Sherlock Holmes-novell "The Adventure of the Blue Carbuncle". "Vi vill att turister ska kunna kliva in i sina favoritberättelser och uppleva dem på den plats där de äger rum", berättar Johanna Forsman, VD och medgrundare av StoryTourist.
Från och med i dag kommer Sherlock-fans som besöker London ha tillgång till ett digitalt och mer flexibelt alternativ till de traditionellt guidade turerna i Baker Street-området. Även Londonborna själva kommer kanske lockas av att kunna utforska sin hemstad på ett helt nytt sätt, speciellt med tanke på att appen är gratis under de två första releasemånaderna. "Om man gillar deckare, historia och att leta ledtrådar i stadsrummet så kommer man att älska StoryTourist: Sherlock Holmes", säger Johanna Forsman.
StoryTourists app knyter ihop verklighet och berättelse till en fängslande upplevelse. Appen använder GPS-teknologi för att guida användaren mellan olika platser som är centrala i historien om Sherlock Holmes, allt medan man tillsammans med Dr John Watson samlar ledtrådar och försöker lösa mysteriet med den stulna blå ädelstenen. Berättelsen får ett eget liv genom ljud, bild, animation, text och interaktiva pussel som aktiveras av att man befinner sig på den fysiska plats där nästa ledtråd går att hitta.
StoryTourist släppte en lilla sjöjungfrun-tur i Köpenhamn tidigare i somras, och Johanna Forsman bekräftar att tillsammans med Sherlock-turen så är detta bara början på ett större äventyr; "Vi planerar massor av roliga StoryTours i hela Europa framöver."
"StoryTourist: Sherlock Holmes"-appen är tillgänglig i Apple App Store och Google Play, där det kommer vara möjligt att ladda ned den gratis till och med den sista oktober. Även "StoryTourist: Little Mermaid" är gratis till och med samma datum.
För presskits, please mejla PR- och Marketing Manager Maria Lundin: maria.lundin@storytourist.com