Our next StoryTour, "StoryTourist: Doktor Glas", will be released in just a few weeks. The tour takes place in Sweden's capital Stockholm – a beautiful city with a lot to offer to both tourists and residents. We might be a TINY bit biased, considering that we are Swedes, but we figured we would put a city guide together with the best spots in Stockholm for those of you planning a visit.
The best spots in Stockholm
Stockholm is situated on the east coast of Sweden, on several large and small islands – which creates the feeling of always being close to water no matter where you go. Here is a list of the different parts of the city and what they have to offer:
Norrmalm
In Norrmalm you will find the city centre – with the central station and plenty of shopping. This is also the part of town where Hjalmar Söderberg imagined that Doktor Glas lived and ran his doctor's office. These are a couple of things worth checking out in Norrmalm:
Kungsträdgården – when the cherry trees blossom during spring; a favorite time and spot for all Stockholm based influencers!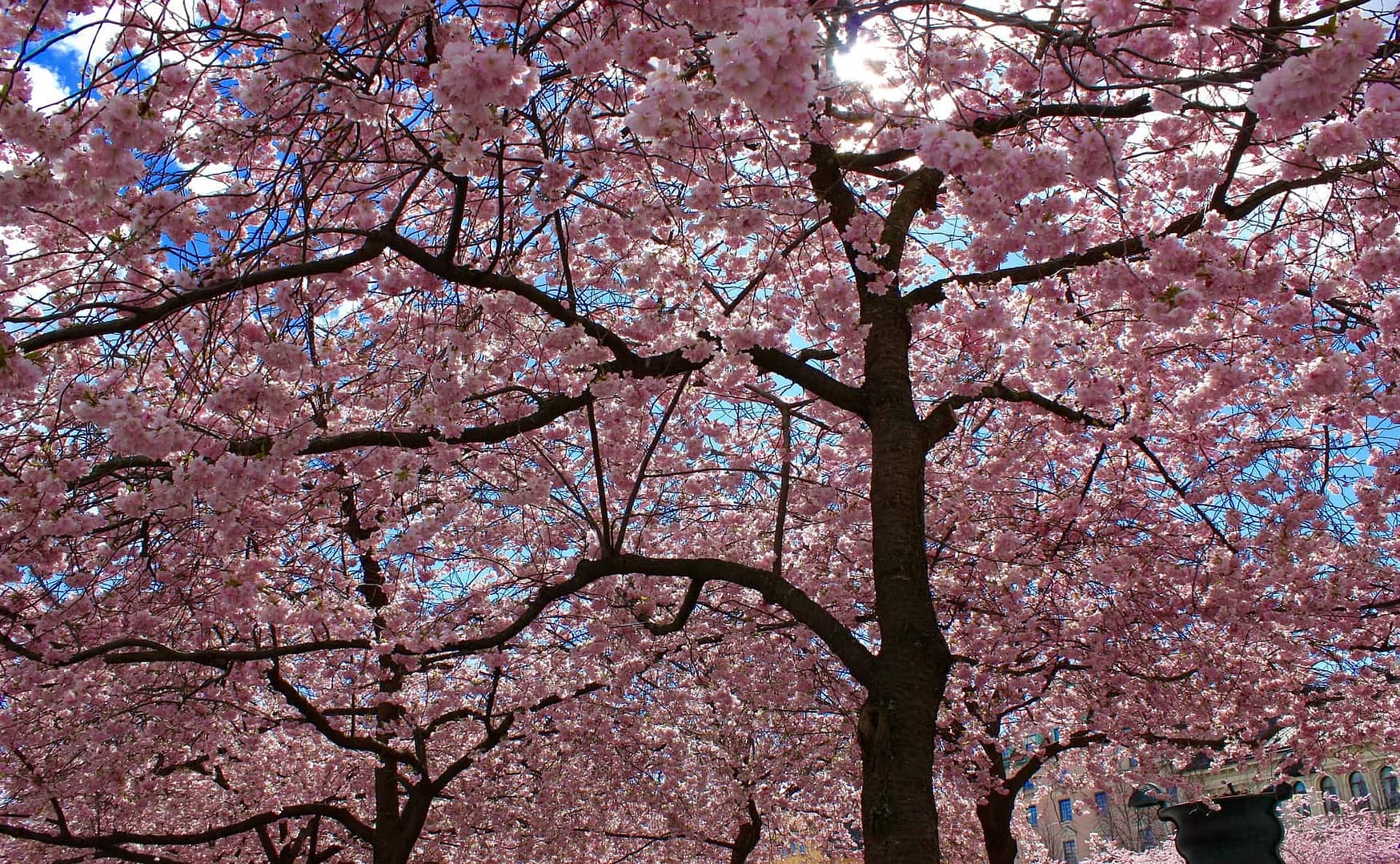 Drottninggatan for classic high street shopping like H&M, Zara and Weekday. Visit the area around Norrmalmstorg for more upscale brands, ranging from the more affordable COS and &Other Stories to Louis Vuitton, Celine and Prada.
Take a break at restaurant Prinsen for some classic Swedish fine dining or have a nice Swedish fika at Fabrique bakery.
Gamla Stan
Gamla stan literally means "old town" – and it IS in fact the oldest part of Stockholm, with a lot of the buildings originating from the 1400s. What you see when you walk around Gamla stan today is layers upon layers of renovations and additions. The brick work that makes up the buildings are the oldest parts, but during the 1600s high gables were added to some buildings, as well as ornate portals. During the 1700s many of the roofs were rebuilt and most brick buildings were covered in the colorful mortar that you see today. In the late 1800s, large shop windows and façade decorations were added to the buildings on the shopping streets.
What to do & see in Gamla Stan
The Royal Palace is a must-see for anyone visiting Stockholm for the first time. While serving as the home and workplace to the Swedish King and Queen, there are also several sights to see here. Buy a ticket to visit the treasury, the Royal Palace museum, the armory (which BTW runs the most entertaining social media accounts we've ever seen for a museum) and the Royal Church. Here, you can also see the changing of the guards for free every day at 12:15 (except on Sundays and bank holidays, then it starts at 13:15).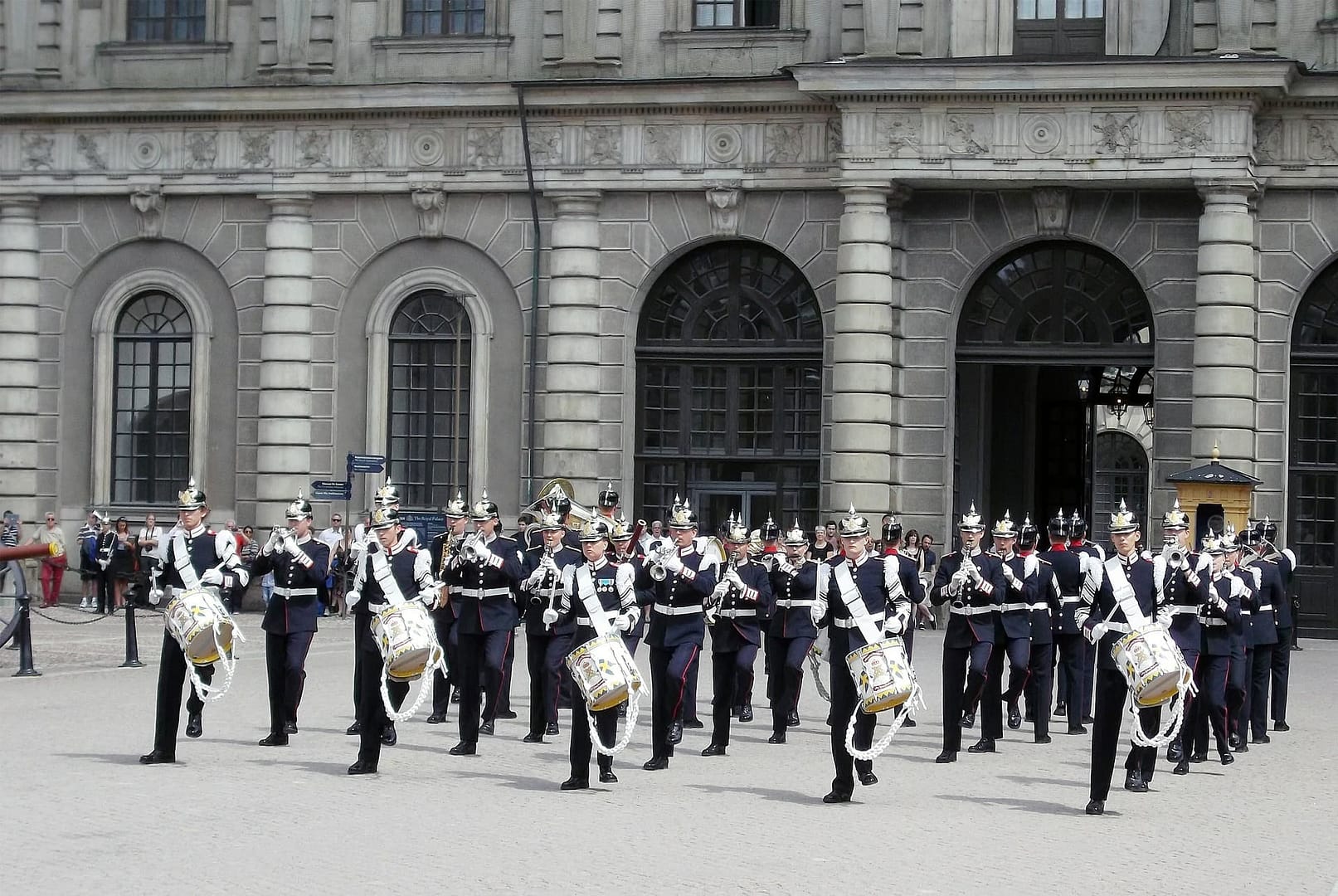 For the perfect insta moment in Gamla stan, visit Mårten Trotzigs alley. With its 90 centimetres from wall to wall it's the most narrow alleyway in Stockholm.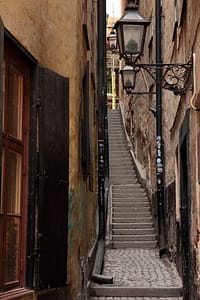 Stortorget – the big square
If you go to Stortorget you will be surrounded by interesting historical sights. On one side you have a large building called Börshuset, which houses both the Swedish Academy (the organization that awards the yearly Nobel Prize winner of literature) and the Nobel museum – which is open every day during summer and Tuesday-Sunday during off-peak season. In the middle-ish of the square you'll find a fountain called Stortorgsbrunnen, and for many years it was considered the centre point of Stockholm city – which meant that the distance to Stockholm from anywhere else in Sweden was measured to that spot.
Historical site with dark history
The fountain also works as an interaction point for our Doktor Glas Tour. If you have the fountain on your left-hand side and the Nobel museum on the right-hand side, you will be facing a red building which is decorated with white stones around all the windows. There is a total of 92 white stones and they each represent a person who was executed at Stortorget during the Stockholm blood bath, which took place in November 1520. The newly crowned King Kristian II and a group of clergymen had 82 noblemen and their servants decapitated, and 10 of them hung due to a previous conflict of power.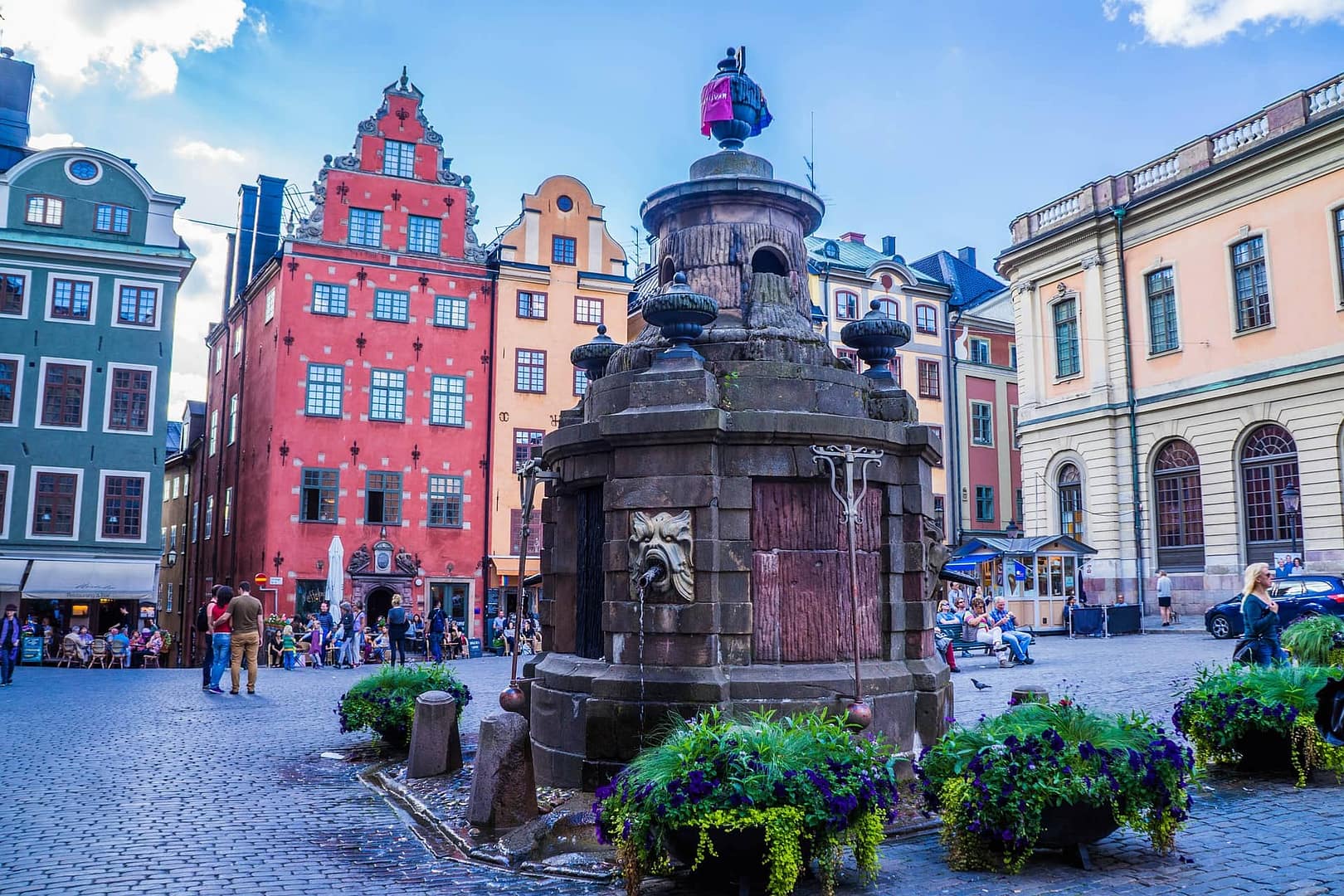 Eat & drink
If you still have an appetite after this story, and want to experience upscale Swedish flavours in a historic setting, visit Den Gyldene Freden – a restaurant opened in 1722, and frequented by guests such as painter Anders Zorn, musicians and composers Carl Michael Bellman, Evert Taube, Fred Åkerström and Cornelis Wreeswijk.  For a full-on Viking experience, visit Aifur – a restaurant started by Swedish musician and Viking enthusiast Martin Eriksson (also known as E-Type). You will be served food inspired by Viking times and actual Viking artifacts are on display.
Södermalm
Would you like to know where all the hipsters hang out? Go to Söder! For a long time Södermalm was considered to be a part of the countryside outside of Stockholm, but during the industrialization in the end of the 1800's the area grew quickly and became the home of the working class. Today this part of the city is gentrified, and full of quaint shops, cafés and trendy restaurants.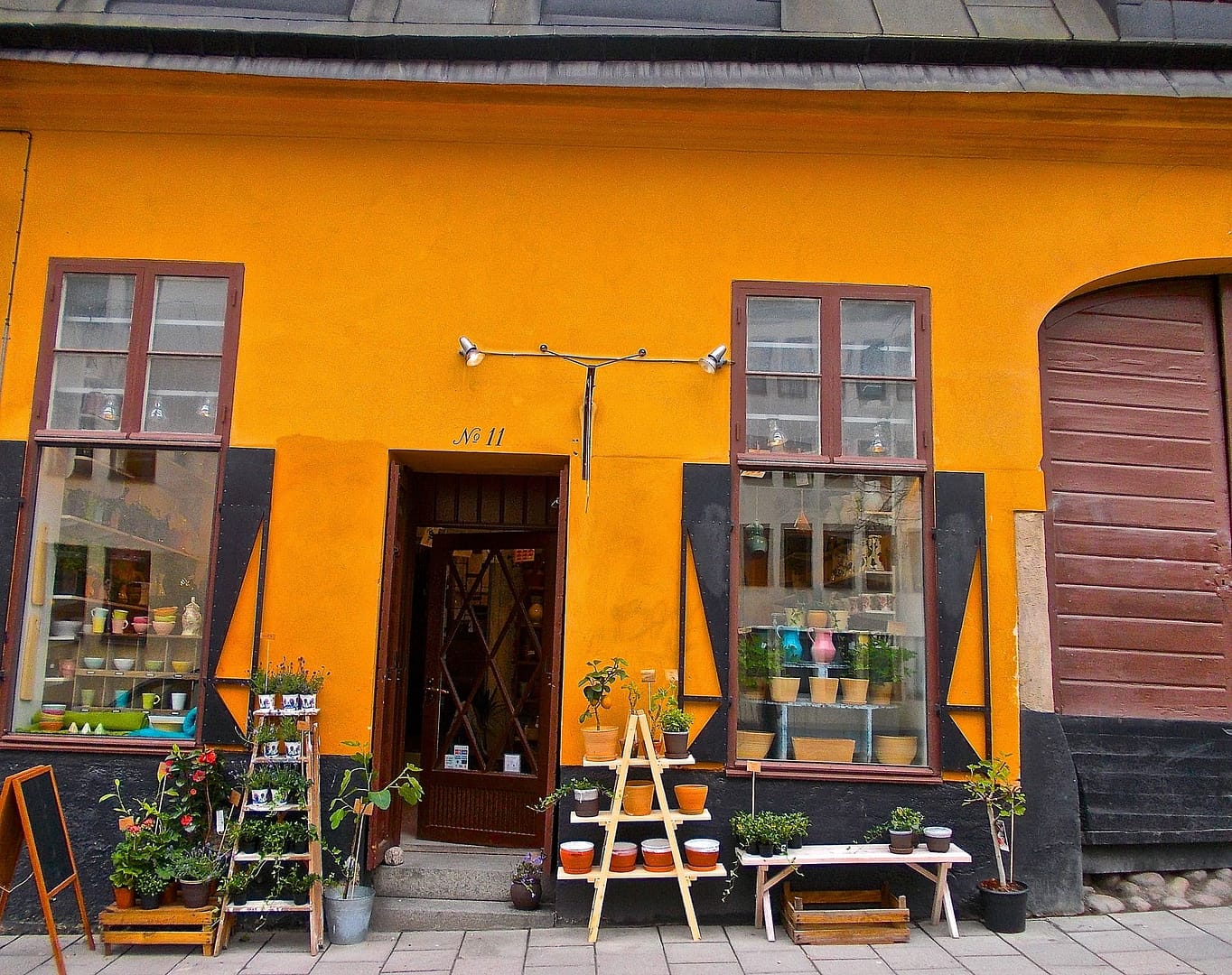 We enjoy the relaxed vibe of Söder, and suggest you visit:
Fotografiska museet, which is a photograhy museum presenting contemporary exhibitions with work from a mix of Swedish and international photographers. It also boasts some really nice views out over the water.
Go to Saluhallen (the food hall) and buy something good to eat and drink, pack a blanket, bring some music and go to Skinnarviksberget for a picnic with amazing views of the city.
To experience some of the original wooden houses from the 1700's (most of them have burned down throughout the years), go for a stroll along Mäster Mikaels gata on the east side of Söder. It's just a short walk from Fotografiska museet, in case you'd like to see both!
Eat & drink
When it comes to food, Södermalm has plenty to offer! For NYC deli inspired choices, like Mac&Cheese, pastrami sandwiches and Bloody Marys, try Katarina Ölkafe. For all day amazing (and instagrammable) breakfast, visit Pom&Flora. If you're after a great upscale neighbourhood restaurant, which has a special menu served AFTER the regular dinner service, give Nytorget 6 a try.  
Djurgården
Traveling with children? Go to Djurgården! Not traveling with children? Go to Djurgården! Djurgården is kind of like Stockholm's playground – and you can get there by tram, bus or boat. Big parts of Djurgården are wide-stretched park areas – where you can get away from the hustle and bustle of the city, but there are also plenty of fun activities here! Our list of favorites include:
Skansen, which is an open-air history museum, as well as a zoo with Nordic animals. You can walk around at Skansen for a full day, taking in buildings from different time epochs, people dressed up in costume, farmsteads, a church and beautiful garden. Did we mention they also have a tropical aquarium?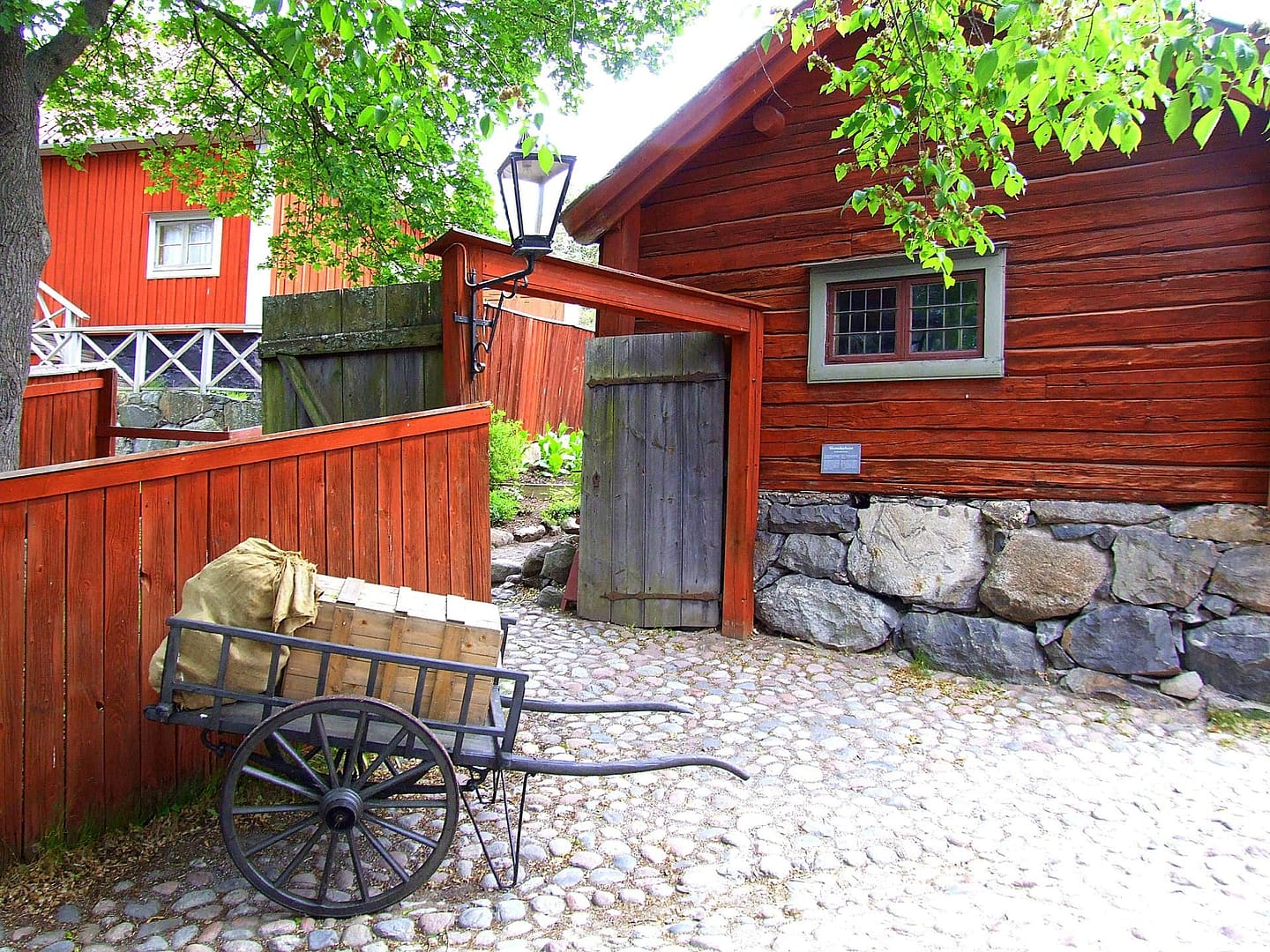 Gröna Lund is an amusement park open during summer and some holidays. It's also the setting for a once-a-week live concert TV show where Swedish artists perform and engage the crowd in a sing-along. Who knows, maybe this could be your big break…?
"Mom look, I'm on TV in Sweden!"
More culture
If you're craving more Hjalmar Söderberg after having taken our Doktor Glas Tour – visit the art museum Thielska galleriet. Thielska offers an entire exhibition dedicated to the famous author, as well as displaying 20th-century Scandinavian and French art in a wealthy art patron's former residence. The Söderberg exhibition will be on display until the fall of 2020.
Junibacken is an Astrid Lindgren-themed park for kids, which offers theatre and great play areas styled after the various Lindgren children's books.
The Abba museum is an absolute must for all Mama Mia-fans. The museum offers a collection of the pop group's memorabilia and interactive exhibits, including a studio and dance floor.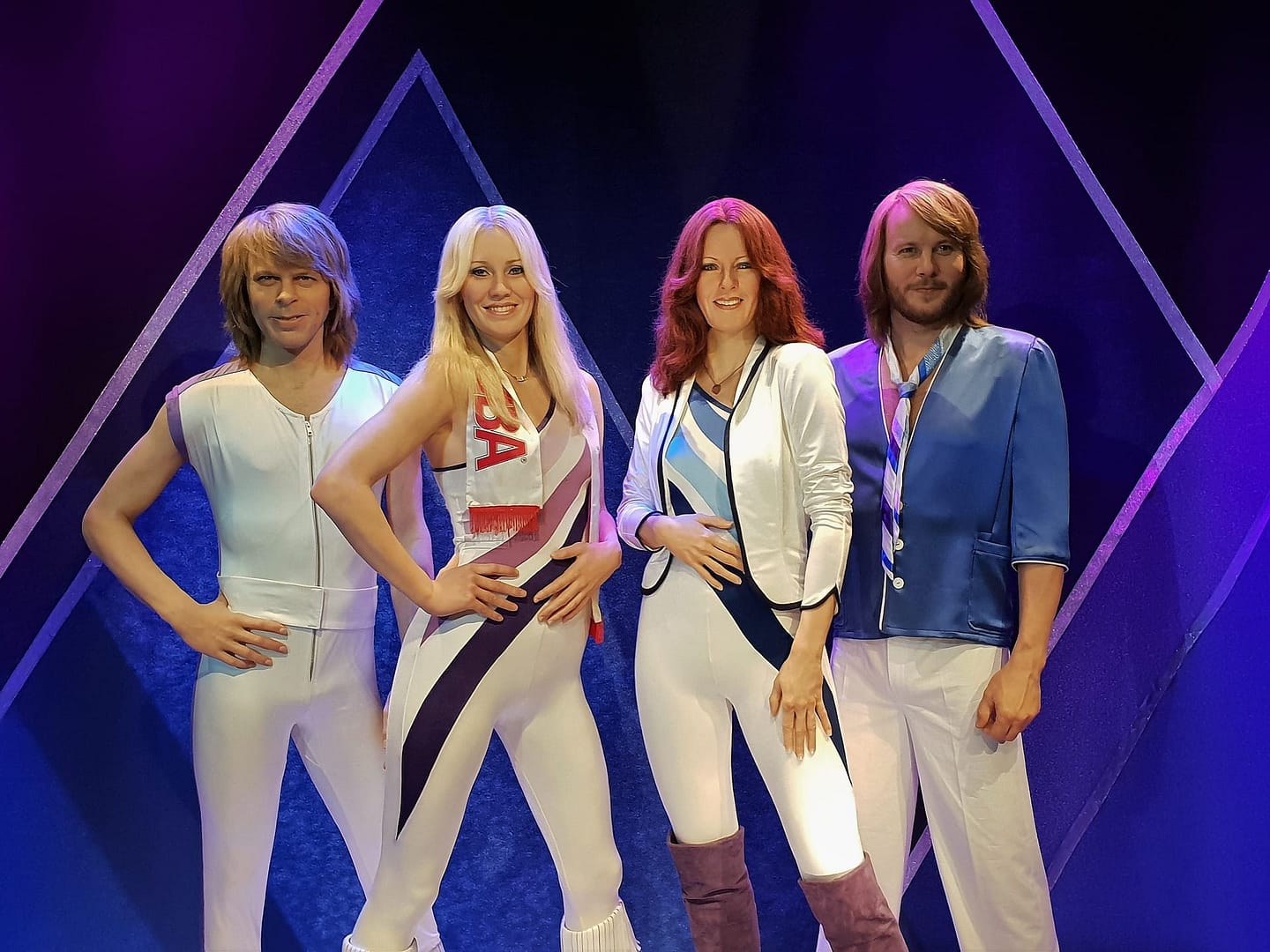 Well, we hope that you found some inspiration for fun things to do and explore while in Stockholm! As we say in Sweden:
Välkommen!